The living room is a key area of ​​home interior decoration. There is a wide variety of living room wall decoration materials that people do not know where to choose. Diatom mud and wallpaper which is better it? The diatom mud wall material does not add any organic additives during the production process, and does not contain any poisonous and harmful substances and heavy metals. The diatom mud wall is not only difficult to get dust, but also has a wall self-cleaning function and can maintain the decorative surface. , Can effectively prevent the occurrence of peeling, cracking, shedding and other phenomena in the use of similar wallpaper walls, completely eliminate the hidden dangers of active eating and poisoning in the toddler. If you are still upset about diatom mud and wallpaper , why not follow me with it?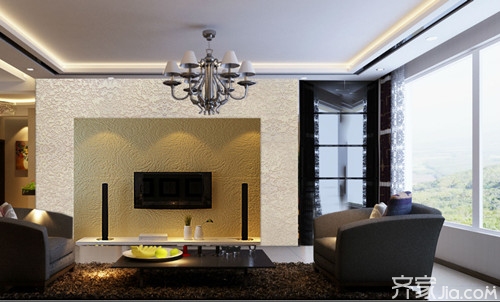 What is a wallpaper

Wallpaper It is a very widely used interior decoration material, because wallpaper has a variety of colors, rich patterns, luxurious style, safety and environmental protection, easy construction, affordable and other features of many other interior decoration materials can not match, but the wallpaper shop Stickers need to be varnish, wallpaper glue, and then shop wallpaper. At this time, the shape of the wallpaper has changed a lot. After the wallpaper is affixed, the wallpaper glue is covered inside, and the formaldehyde is hard to evaporate, so the release period of formaldehyde is much longer than that of the wall paint.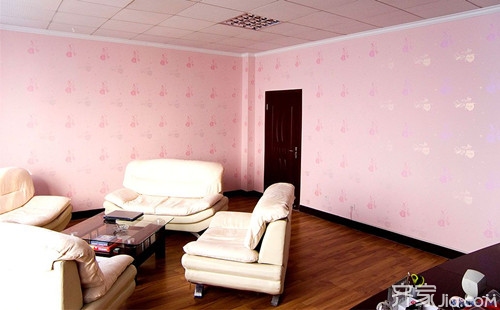 What is diatom mud

Diatom mud is an interior wall material that uses diatomite as its main raw material. The main raw material of diatom mud is diatomite, a diatomaceous earth that has been formed for millions of years. Diatom is a type of algae that lives in oceans and lakes. Diatom mud is a versatile decorative wall material that does not contain formaldehyde. Benzene and other harmful substances.

Advantages and disadvantages of diatom mud and wallpaper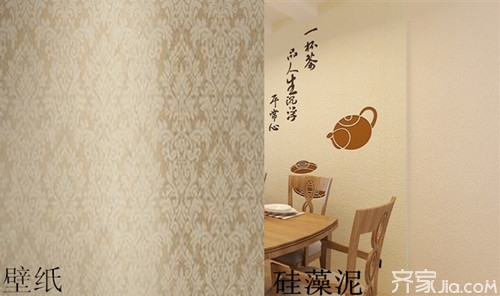 Diatom mud advantages:

Natural environmental protection

Diatom mud wall material consists of pure natural inorganic materials, does not contain any harmful substances and harmful additives, and the material itself is a pure green environmental protection product. Its main ingredient diatom mineral is widely used in cosmetic masks, beer food filters and so on.

Purifying air

Diatom mud products have a unique "molecular sieve" structure and selective adsorption performance, which can effectively remove free formaldehyde, benzene, ammonia and other harmful substances in the air, as well as odors caused by pets, smoking, and garbage, and purify indoor air.

Soft colors

Diatom mud is coloured with inorganic pigments, with soft colours. When people live in a diatom mud-filled living room, the light reflected on the wall is natural and soft, and people are less prone to visual fatigue. This effectively protects the eyesight of you and your family, especially for protecting children's eyesight. At the same time, the diatom mud wall has a long-lasting color and is not easy to fade. The wall surface is as new as ever, increasing the life span of the wall surface, reducing the number of wall decoration, and saving the cost of living room.

Fire retardant

Diatom mud is made of inorganic materials and therefore does not burn. Even if a fire occurs, it will not emit any smoke that is harmful to the human body. When the temperature rises to 1300°C, the diatom mud is only melted and no harmful gases, such as smoke, are produced.

Breathing and humidity control

With the change of ambient air temperature in different seasons and sooner or later, diatom mud can absorb or release moisture and automatically adjust indoor air humidity to make it relatively balanced.

Sound absorption and noise reduction

Due to its own molecular structure, diatom mud has a strong noise reduction function, can effectively absorb high frequency segments that are harmful to human body, and attenuate low frequency noise functions. Its efficacy is equivalent to more than twice the thickness of cement mortar and slate. At the same time, it can shorten the reverberation time by 50%, greatly reducing the harm of noise to human body, and creating a peaceful sleep environment for you.

Craftsmanship

Diatom mud construction process can be completed according to different requirements and preferences of customers using traditional craftsmanship and special tools. Diatom mud is rich in texture, effect is natural and natural, texture is vivid and real, and it has a strong artistic appeal.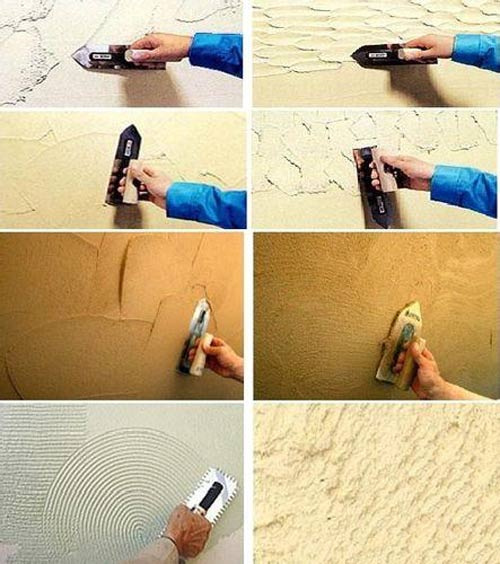 heat insulation

Diatomite, the main component of diatom mud, has a very low thermal conductivity and is an ideal thermal insulation material. It has very good thermal insulation properties and its thermal insulation effect is 6 times that of cement mortar of the same thickness. Diatom coating construction manual how to identify diatom mud

Strong adsorption capacity

The unique crystal structure of diatom mud has a strong adsorption capacity for formaldehyde, benzene, ammonia, TVOC and other harmful gases as well as water vapor and odor. (The finished smoke decomposition experiment can be verified)

Long life

The life of diatom mud can be as long as 20 years, without whipping, no shedding, no fading, oxidation resistance, and always new.

Diatom mud defects:

For the diatom mud industry, relatively speaking, the diatom mud also has its own characteristics. This is mainly related to its raw material, diatomite. It is not a technological process. There is no perfect product in the world. The core of the diatom mud is With the zero pollution of its own materials and the elimination of indoor air pollution, the following few material regrets will be introduced to facilitate the user to more intuitive understanding of diatom mud:

Complex construction

Diatom mud professional texture patterns suggest that there is a special construction master construction, otherwise it can not achieve good results, easy to cause the wall off, not beautiful, waste of materials and other issues, so consumers do not dabble when choosing diatom mud .

Compared with the high cost of wallpaper

Compared with the cost of latex paint, wallpaper, and diatom mud, the cost of the initial investment is higher, but according to the calculation of long-term economic interests, although the first time the cost of diatom mud is higher, the use cycle is as high as 20 years or more. In 20 years, the latex paint will be painted about 4 times, and the cost will be about 20,000 yuan. The wallpaper will be changed about 5 times and it will cost about 50,000 yuan. The cost of using diatom mud in a room of 100 square meters is about 20,000 yuan. It is obvious that the price of diatom mud is not high.

Rough visual

Diatom mud is not colorful and slightly monotonous with wallpaper; diatom mud is expensive and has a rough surface compared to latex paint, but the rough surface of diatom mud is its advantage, and it can absorb harmful gases in the air. At the same time there are thermal insulation features.

Not waterproof

Diatom mud because of its own structure is very strong water absorption, but not waterproof, can not be used in too humid place, such as kitchens, toilets, where it is easy to wet and can not use diatom mud decoration, which is the limitations of diatom mud decoration.

Hardness is weaker than plate

Diatom mud is, after all, "mud," and its hardness cannot be compared with ceramic tiles, but it is the same as other coatings. Paints and plates are not good because they are not a class of materials.

Not easy to clean

Diatom mud is called mud because of its natural properties. The mud cannot be scrubbed. If it is scrubbed diatom mud, it is not a true diatom mud, and it can only be called "diatomaceous paint." Diatom mud, which cannot be scrubbed, is a true diatom mud because it does not contain formaldehyde, benzene, and other chemical materials and does not form a plate. It does not form a "paint film." The diatom mud containing formaldehyde and benzene must form a knot board and form a paint film on the surface, blocking the innumerable microscopic pores of the diatom mud, and the moisture cannot be absorbed, so it can be scrubbed.

High-quality diatom mud does not contain any heavy metals, does not generate static electricity, and dust does not easily adhere. Walls are permanently fresh, diatom mud is not prone to static electricity, and wall surfaces do not easily fall into dust.

 

Wallpaper Benefits:

Liquid wallpaper is a new type of environment-friendly paint that combines the advantages of wallpaper and latex paint. It avoids the disadvantages of easy discoloration, warping, and damage of the wallpaper. At the same time, it is more layered than emulsion paint and has a variety of colors. Liquid wallpaper is a water-based paint that is made of acrylic emulsion, titanium dioxide, pigments and other additives. Therefore, contaminants are avoided in the internal raw material components, thus ensuring the environmental safety of product use.

The difference between liquid wallpaper and wallpaper: The liquid wallpaper is firmly attached to the base latex paint and never peels. The wallpaper uses adhesive technology, and the adhesive ages from the skin. Liquid wallpaper seamless without cracking. Wallpaper seams are prone to cracking. The liquid wallpaper is stable and durable and does not change color. Wallpaper is easily oxidized and discolored. Liquid wallpaper is waterproof and scrub resistant, and antistatic, dust is not easy to attach. Wallpaper is afraid of tide, need special cleaning agent to clean. Liquid wallpaper can be painted when the secondary construction.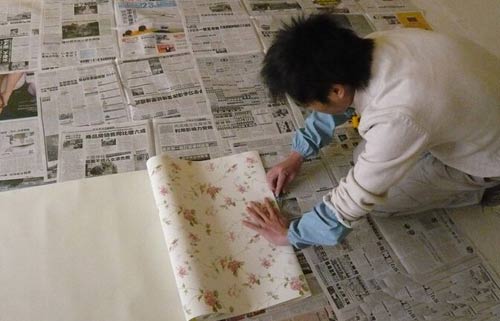 Wallpaper Disadvantages:

Liquid wallpaper is still somewhat disadvantageous and it is not foolproof. The liquid wallpaper has high requirements for the wall surface, and it is difficult to clean the wall surface after construction, and the construction time is longer than the wallpaper. If oily dirt is encountered or if it is difficult to clean, dust-like substances can be scrubbed with a damp cloth; wetness of the house may cause cracking; consumption levels, some types of liquid wallpapers do work well, but the relative costs are higher; The requirements of the wall are high. We must show that the wall is level and the construction delay is more.

Diatom mud and wallpaper which is good

1. Cost

Wallpaper: The price is a little higher.

Diatom mud: The highest price.

If the calculation is based on long-term economic benefits, although the first time the cost of using diatom mud is higher, the use cycle is as high as 20 years or more. To replace the wallpaper 5 times, the cost is about 50,000 yuan. The use of diatom mud in a 100-square-meter room requires a cost of 20,000 yuan. It is clear that the price of diatom mud is not high.

2, function:

Wallpaper: No function, relatively nice.

Diatom mud: Anti-formaldehyde.

3, repair:

Wallpaper: broken can not be repaired.

Diatom mud: dirty can be erased with an eraser, and the color does not change, does not affect the appearance. Broken can be repaired, patching is simple, the color difference is very small, basically do not see it.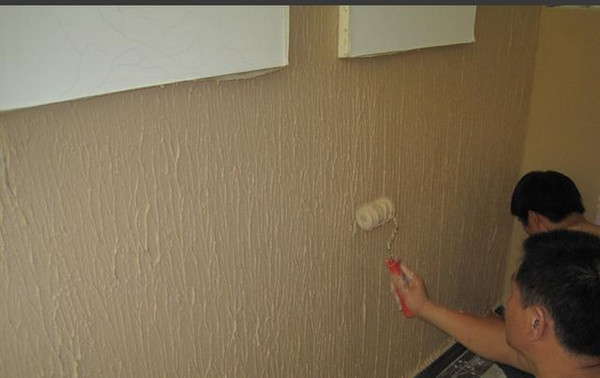 4, effect, pattern:

Wallpaper: It means fashion and gorgeous, from flowers to cartoon animals, to ink blue, with a variety of unrestrained and elegant style.

Diatom mud: rich patterns, fashion and gorgeous as wallpaper. However, the texture is natural and generous, durable, but always maintain the vitality of youth, while maintaining the original ecological, natural and at the same time, the printing is more stylish, delicate, suitable for creating a pastoral, elegant, warm home style.

Editor's summary: The above is a good introduction about diatom mud and wallpaper. I hope to help friends who have this need! For more information, please continue to follow our website, follow-up will show more exciting content. You can also purchase more of your favorite products on Qijia Mall!

Diatom mud wallpaper wallpaper selection living room wallpaper what color good bedroom wallpaper what color good living room wall wallpaper

1. Made from zirconium, anti-bacteria, anti-fouling, non-toxic and non-corrosive.Super hard, high-density and sharp blade, not easy to be blunt.No reaction with any food and can preserve the original color and taste of the food, keep the food's freshness and nutrition.

2. the big santoku is an all-purpose knife for everyday slicing. dicing and mincing. the samll santoku knife effortlessly gides through small vegetables and fruits. The beveled doubled-sided, cutting edge will thinly slice anything, becoming a favorite knife in the kitchen

3. Not for Cutting Bones, Coconut Shells or Super Hard objects.Do not use Ceramic Knife for chopping bone, prying, striking and it can dish-washing .

4. Well-balanced design with comfortable and lightweight ergonomic handles.

Ceramic Santoku Knife,Ceramic Cooking Knives,Ceramic Big Santoku Knife,Sharpe Ceramic Santoku Knife

BOHAO ENTERPRISE CO., LTD , https://www.yj-bohao.com