In the annual "Safety Production Month", various regions have carried out safety warning education activities, how to make the warning education activities both sound and colorful, rich and colorful, the people like to hear, but also solid, have received the expected results, this is a place in An important topic for leaders at all levels. (EHS.CN)

The author believes that regardless of the form of security warning education, as long as the basis of "fresh, live, near", highlighting the three characteristics of education, shock, and practicality, will surely receive a multiplier effect.

Fresh, that is, the content of the activity of warning education should be fresh, unconventional, and not dogmatic. The theme of "Strengthening Redline Consciousness and Promoting Safe Development" should be closely linked with the spirit of studying and implementing General Secretary Xi Jinping's important speech on production safety, using exhibition boards, pictures, films and television, sketches, warning education bases, accident victims' talks, and accident liability. New examples of liveliness, such as confession of people, in the form of illustrations and sounds, voices and forms, to the recent occurrence of various types of accidents that have an impact, highlighting the characteristics of the accident, to carefully analyze the causes, education, warning of all sectors of society and all parties learn from the lessons of human blood We must take warnings and earnestly calculate seven accounts of "political, economic, family, honorary, affection, health, and freedom". We must ensure good faith, power, money, and respect for discipline, and strengthen the responsibility of the organization to firmly establish concerns. Safe and caring for the mission of life, strengthen safety investment, and standardize safety production behavior. Conditional units and departments can organize employee family members and children to engage in family affiliation and teaching activities to give full play to the supervisory role of affection in safety.

Living, that is, the content of the activities of warning education should be flexible, not rigid, not rigid. It is necessary to combine the actual conditions of the unit and the industry, adapting to local conditions, adjusting to circumstances, and adapting to individual circumstances, relying on media platforms, knowledge competitions, visiting symposia, speech contests, sending short messages, public service advertisements, warning signs, and prosecuting cases for punishment. Decisions, start-up warning education courses, and annual safety worst companies and annual safety best company selections and other activity methods have deepened the reach of warning education to villages, communities, families, schools, companies, construction sites, railway stations, airports, docks, and hospitals. , Internet cafes, hotels, etc., aiming at educated people's age structure, cultural level, regional environment, identifying the entry point, grasping key points, clearly setting footholds, selecting good integration points, and enhancing the pertinence and inspiration of warning education. Fun, diversity and operability make a fuss about life, only once, cherish life, pay attention to safety, avoid "red light", not step on the "edgeline" consciousness to penetrate the hearts of people, so that warning education activities really play their due role. effect. To achieve the goal of a factory accident, a million factory education, a person punished, a large education.

Nearly, the content of the activities of warning education should be close to the point of view, and should not go out of the question or go out of tune. To do a good job in safety warning education activities, we must adhere to people-oriented, close to reality, close to life, close to the masses, and then enhance their persuasiveness, attractiveness, appeal and affinity. It is necessary to fully consider the psychological characteristics and individual differences of the audience, and for different positions and responsibilities, there must be different content of warning education. Combining with the actual situation, we should ensure that "different duties, due to job classification, due to job performance, due to job performance assessment" to ensure that different positions of the staff "clear job responsibilities, clear job risks, clear job requirements, clear in the post illegal and non-compliance "Serious consequences" reflect personalization in educational objects, closeness in educational content, vividness in educational methods, and practical warnings and achievements in safety warning education.
This article is a reprint of online media. It only represents the author's point of view. It has nothing to do with this site. If news articles and comments infringe your legal rights, please call us and we will handle it in a timely manner.

Air Conditioner Anti Vibration Rubber Mount
1). Customized: Our Product can be PERSONALIZED with your name or your company`s logo.
2). Co lour: As customers requested.
3). Convenient: Hand-protect, chip resistant, unbreakable, comfortable, soft and warm to touch


4). Steady Price: More steady price policy in this market.

Both standard and bespoke, to manage the load of Air Conditioning units on a flat roof. The Big Foot Systems range of products and systems are quick and easy to install and reduce the need for complex, time consuming and expensive detailing. Offering improved roof aesthetics, our range provides engineered solutions that are innovative in design, robust and repeatable.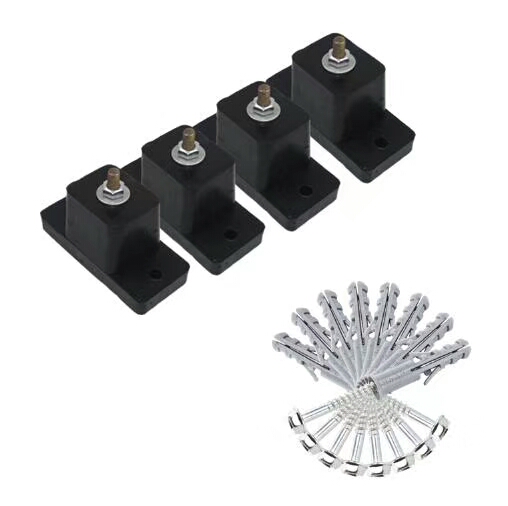 Air Conditioner Anti Vibration Rubber Mount

Air Conditioner Anti Vibration Rubber Mount,Anti Vibration Rubber Mount,Air Conditioner Rubber Mount,Rubber Mount

Renqiu Xingcheng Rubber Products Co., Ltd. , http://www.xingchengrubber.com