【China Aluminum Network】 Spray forming is a process in which high-pressure inert gas is used to atomize alloy liquid into small droplets, fly under high-speed airflow and cool, and then deposit into blanks before it has completely solidified. It has various advantages such as fine grain, uniform structure of the obtained material, ability to suppress macrosegregation and other rapid solidification techniques, and also has the advantage of one-step completion from the alloy smelting to the near-end forming, which has caused people's great attention.

Aluminum alloy has the advantages of low density, high strength, good toughness, and corrosion resistance. It is widely used as a structural material in the aerospace industry. At the same time, it is actively being developed as an advanced automotive material and used in high-end passenger cars.

The casting process is the main preparation method of traditional aluminum alloys, but it has been difficult to meet the need for preparing high-performance aluminum alloys. At the front, the traditional process has been difficult to further improve the strength, plasticity, stiffness, heat resistance and corrosion resistance; Second, in the pursuit of high performance, the cost of the casting process is rapidly increasing due to the increase in equipment and yield; As the alloy content increases, the plasticity tends to decrease, so that the subsequent pressure processing costs increase and the yield decreases. Therefore, the high cost of production has greatly increased the use threshold of advanced aluminum alloys and seriously affected the development of the overall market scale. In these aspects, the injection molding process has the dual advantages of performance and comprehensive cost, which can reduce the use of advanced aluminum alloy threshold, and can further improve the performance, to achieve a certain range of aluminum substitute steel, thus rapidly cultivating advanced aluminum alloy The market, in turn, promotes the injection molding process to gain economies of scale. Therefore, the spray forming process will become the main production process of advanced aluminum alloys.

At present, the successful spray forming high-performance aluminum alloy materials mainly include the following types:

(1) High-strength aluminum alloy. Such as Al-Zn ultra-high strength aluminum alloy. Since the Al-Zn alloy has a wide range of solidification and crystallinity, and has a large difference in specific gravity, when it is produced by a conventional casting method, macrosegregation tends to occur and hot cracking tends to occur. The rapid solidification of spray forming technology can solve this problem. In developed countries, it has been applied to key parts such as connecting rods and shaft supports of aerospace aircraft parts and automobile engines.

(2) High specific strength and high specific modulus aluminum alloy. Al-Li alloy has the characteristics of small density and high elastic modulus, and it is a structural material for aviation and aerospace with potential for development. Ingot metallurgy limits the full potential of Al-Li alloys to a certain extent. Spray forming rapid solidification technology has opened up a new way for the development of Al-Li alloys.

(3) Low expansion, wear-resistant aluminum alloy. Such as hypereutectic Al-Si series high strength wear-resistant aluminum alloy. The alloy has the advantages of low thermal expansion coefficient, good wear resistance, etc. However, when a conventional casting process is used, a coarse primary Si phase is formed, resulting in deterioration of the material properties. The rapid solidification feature of spray forming effectively overcomes this problem. At present, spray-formed Al-Si alloys have been made into components such as cylinder liners for passenger cars in developed countries.

(4) heat-resistant aluminum alloy. Such as Al-Fe-V-Si heat-resistant aluminum alloy. The alloy has good room temperature and high temperature toughness, good corrosion resistance, can be used in the temperature range of 150 ~ 300 °C or higher, and partially replace the titanium alloy and heat-resistant steel working in this temperature range to reduce weight, cut costs. The injection molding process can directly prepare the blank with rapid solidification structure characteristics, overall compactness, and large size from the liquid metal in a small number of processes, so that the problem of the conventional process can be solved.

(5) Aluminum matrix composites. Combining spray forming technology with aluminum-based composite material preparation technology, a "Sprayco-deposiion" technology was developed to solve the segregation problem of reinforced particles.

Jiangsu Haoran Spray Forming Alloy Co., Ltd. is a high-tech enterprise specializing in R&D, production and sales of spray forming high-performance alloys. The company was established in June 2008 and is located in Zhenjiang, a historical and cultural city in the south of the Yangtze River. Its products are mainly used in key areas of high-end fields such as aerospace and defense industries. They mainly include aluminum alloys, silicon-aluminum electronic packaging materials, and alloy steels, with an annual production capacity of 1,500, 300, and 2,000 tons respectively.

The company currently has two spray-formed aluminum alloy production lines that can produce high-strength, high-temperature, high-stiffness, wear-resistant aluminum alloys with international leading level, and can provide customers with injection molding billets, deep processing - heat-treated blanks and components product. Spray-forming alloy billet reaches Φ500×1600mm, providing customers with various industrial specifications, and can develop special specifications and special performance products.

main products:

(1) High-strength and tough 7055 aluminum alloy profile, with tensile strength of 720MPa in T6 state and elongation of 10%, has been applied in aerospace, aviation, and heavy industry, and has a promising market prospect. Can develop 800MPa grade aluminum alloy to meet higher demand;

(2) High-stiffness aluminum alloy, T6 state tensile strength 560MPa, elastic modulus 95GPa, thermal expansion coefficient lower than 20ppm/K;

(3) heat-resistant aluminum alloy, without heat treatment, 350 °C tensile strength 200MPa, room temperature elastic modulus 85GPa;

(4) lightweight high-strength aluminum alloy, specific gravity 2.55g/cm 3 , tensile strength 550MPa;

(5) Low thermal expansion silicon-aluminum alloy, the thermal expansion coefficient is as low as 7ppm/K, and the thermal conductivity is greater than 100W/(mK).

Yangzhou Chengde (YC) is one of the best pipe manufacturers in the world, and the production diameter from 8" to 48" in OD and wall thickness from 9.53 mm up to 140mm. We can produce the A/SA53 steel pipes according to the ASME SA53 and ASTM A53 standards.

Yangzhou Chengde founded in 1988, always insist on innovating and creating excellence. At present, the total assets is 6 billion RMB, the number of staff is 3000 and cover an area of 2080 acres of the Chengde group. Chengde group is the first echelon in national brand on seamless steel pipe and including 4 sections: Jiangsu Chengde incorporated company, Yangzhou Chengde Steel Pipe Co., ltd, Yangzhou Chengde Heavy Industry Co., ltd and Taizhou Chengde Steel Pipe Co., ltd.




Chengde have been working on the research.manufacture and sale of seamless pipe about 30 years, and the advantage of core competence is more prominent by integrate in technical.management and market with PCC.

1 The Piercing and rolling technology of Chengde possesses a number of patents in designing and manufacturing the equipment. The production is efficient and flexible, and the quality is stable.

2 The material grade is complete, and the size range is wide (three produce line can manufacture all non-standard sizes). The Minimum Order Quantity (MOQ) as low as ONE piece, and the date of delivery is short with excellent cost performance.

3 The sales and service team is professional and localize.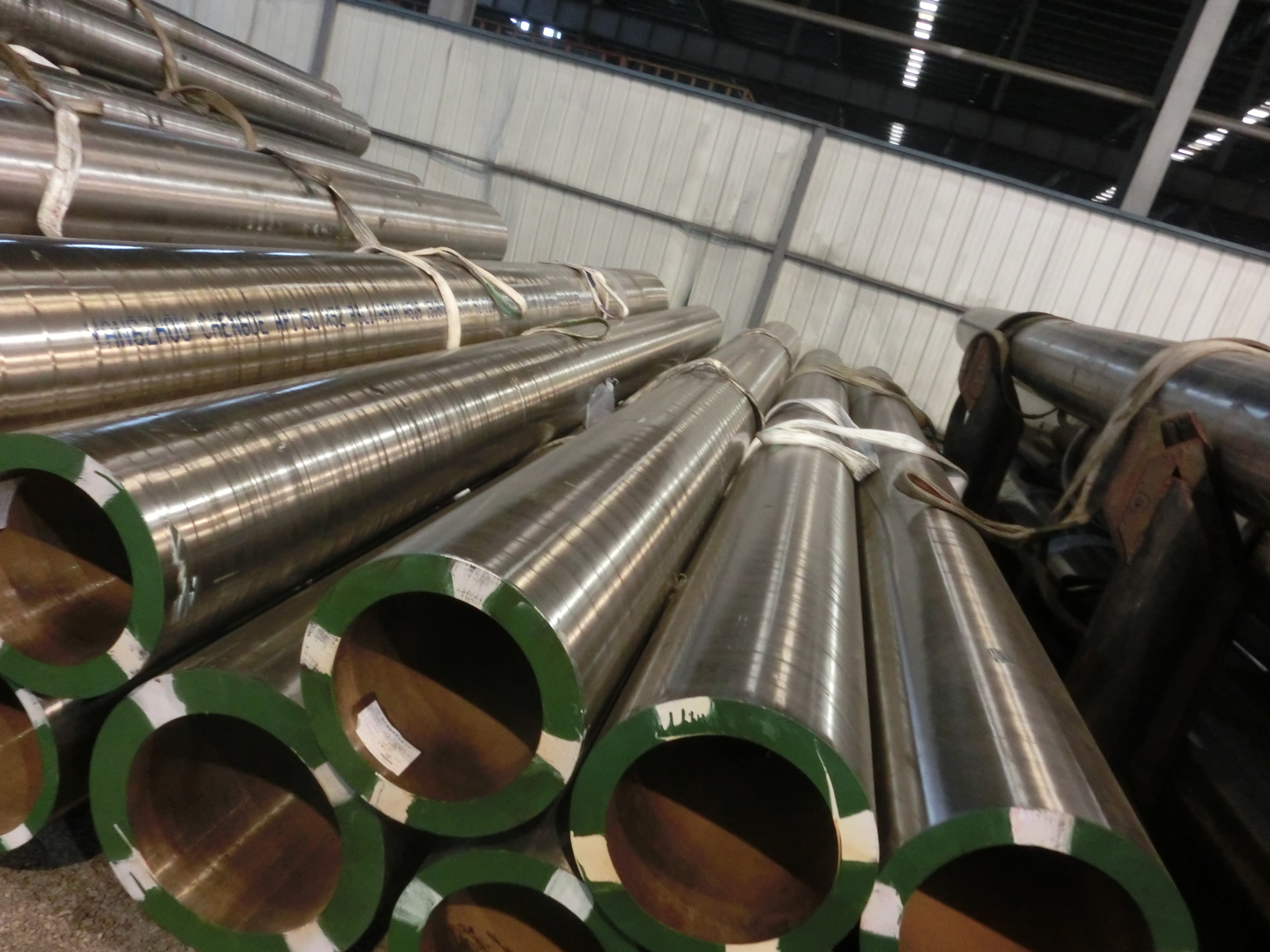 A53 B Pipe,Asme Sa53 Pipe,Asme Sa53 Carbon Steel Pipe,Asme Sa53 Carbon Steel Tube

YANGZHOU CHENGDE STEEL PIPE CO.,LTD , https://www.chengdepipe.com